Tree House's 2021 Shelter Statistics: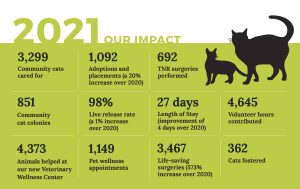 Note: Our live release rate is calculated by adding out total live outcomes (adoptions + Return To Owner + transfers) by our total outcomes (adoptions + euthanasia + RTO + Died + transferred).
---
Financial Statements
Give with confidence
Tree House has earned a 2022 Platinum Seal of Transparency with Candid! You can support our work with trust and confidence by viewing our profile.
To Donate By Mail:
Tree House Humane Society
7225 N. Western Avenue
Chicago, IL 60645
Please make checks payable to Tree House Humane Society.