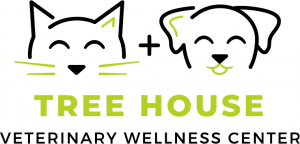 welcome!
We believe everyone should have
access
to
quality
vet care. We deliver compassionate care that results in healthy pets, healthy families, and healthy communities.
---
The Tree House Veterinary Wellness Center serves a long-term need in the local Chicago community. With the guiding belief that every pet and pet owner should have access to quality veterinary care, the Veterinary Wellness Center gives pet parents access to affordable spay and neuter surgery as well as preventative wellness care for all pets in need of basic care.
BOOK YOUR APPOINTMENT NOW
Online bookings require a small deposit via credit or debit card. A vaccine appointment requires a $10 deposit. A spay/neuter appointment requires a $25 deposit.
If this presents a barrier for you, please call our Client Service Coordinators at (872) 302-4671 directly to schedule! You can also email us at clientcare@treehouseanimals.org.
THINGS TO REMEMBER
For surgery, you'll drop off your pet with us for the day!
Drop-Off Times:
Drop your pets off within a half hour
of our drop off time to guarantee a smooth day!
Dogs: beginning at 7:45AM
Cats: beginning at 8:00 AM
Pick-Up Times:
Pick up your pets promptly–they miss you!
Dogs: beginning at 3:30 PM
Cats: beginning at 5:00 PM
TNR: beginning at 5:30 PM
Our team will hand you care instructions for your pet, including things to watch for and what to expect.
Having trouble booking or have more questions? Click below for more about our appointment policies, pricing, and more!
Affordable spay/neuter
Spaying or neutering your pet is one of the best choices you can make for their health. Learn more about why!
wellness
By keeping your pets up to date on their vaccinations and care, you can help them thrive for a long time.
TNR & Community care
Our VWC offers special rates for our outdoor feline friends and community partners.
ABOUT THE VWC
By guaranteeing access to quality vet care to all, we are serving a key need in our communities. The VWC is open to the public for veterinary wellness care: a place for anyone to bring their pet for all their basic needs.
With the generous support of donors and our community, we were able to open this expansion to Tree House Humane Society's campus in April of 2021. Our state-of-the-art facility houses multiple exam rooms, prep and surgery suites, and a special room for outdoor and unsocialized cats. It also expands our care to dogs, with special space and rooms for our canine companions.