Your Visit to Tree House
There's a lot going on at Tree House, and we want to make it as easy as possible to get care, a coffee, or a cat! Here you'll find everything you need for a visit to Tree House Humane Society.
All information is subject to change. The following reflects changes as of November 2022.
Our Location
GETTING HERE
7225 N. Western Ave., just north of Touhy
Parking: Visitor parking is available in our on-site lot. Ample free street parking is also available near the shelter.
Public transportation: CTA 49B bus (north and southbound) stops at the corner of Western and Touhy – steps from our shelter
There are three entrances to Tree House Humane Society.
Western Ave: Our main entrance faces Western Ave and is great if you're arriving for an appointment or grabbing a coffee!
Parking Lot West: This vestibule houses our donation drop-off bins, and is otherwise great for entering from our parking lot for your appointment.
Parking Lot East: Arriving for your Veterinary Wellness Center appointment? Looking for vet care, your spay/neuter appointment, etc.? This is the door for you!
ACCESSIBILITY
Tree House Humane Society is ADA-compliant. Our parking lot has a short ramp to our doors, which are wide enough to accommodate a wheelchair or walker. Our single-occupancy, gender-neutral bathrooms are accessible to all guests, and an elevator connects our two floors.
TREE HOUSE & COVID-19
All of Tree House staff and volunteers are required to be fully vaccinated against COVID-19.
If you are experiencing symptoms of COVID-19, we ask that you please reschedule your visit and join us when you're feeling better!

For the most up-to-date information about COVID-19, please refer to the Center for Disease Control's website.
Program Hours
Adoption Hours
Our full-service adoption center helps pair cats with families! Make an appointment for a counseling session with our volunteers and staff and find the perfect new friend.
Adoptions are by appointment only.
Wednesday – Sunday 12 p.m. – 6 p.m.
Learn more & make an appointment.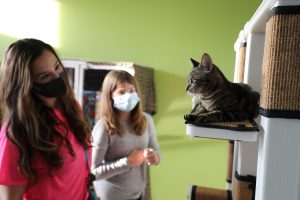 Cat Café Hours
Stop by anytime we're open for Metropolis coffee and custom espresso drinks. You can also book an appointment to hang out in the attached cat colony!
We're currently offering limited hours in our Cat Cafe. Thank you for your patience! Please visit the booking page to see the next available openings.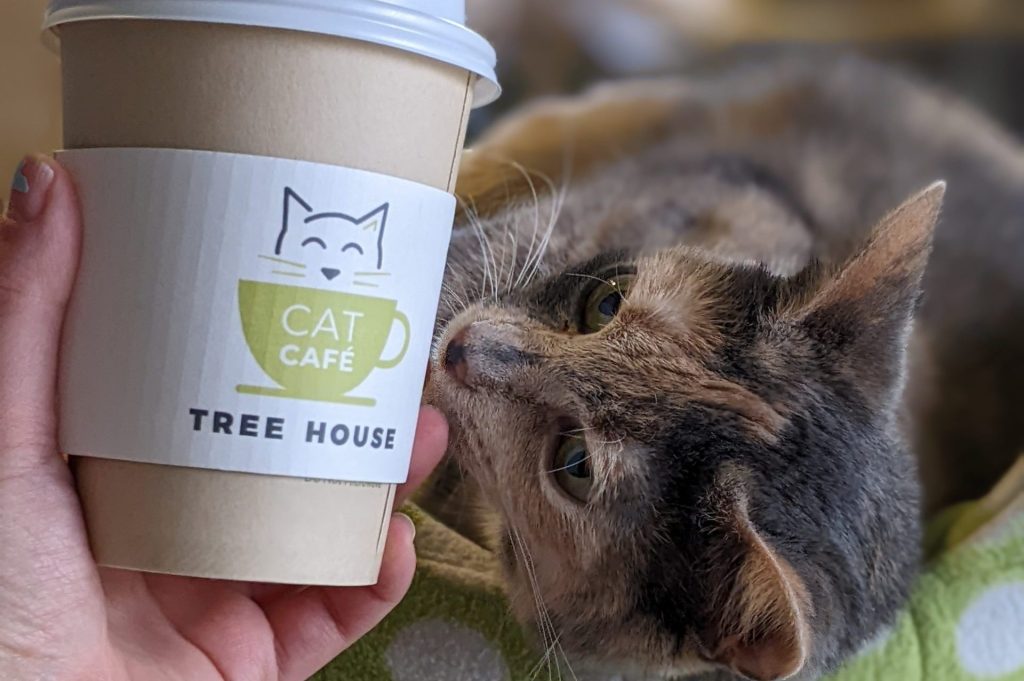 Veterinary Wellness Center Hours
Our Veterinary Wellness Center offers affordable spay/neuter and wellness care to your cats and dogs! Like our adoption center, the VWC is appointment-only.
Tuesday – Friday, 7:30 a.m – 5:00 p.m.
Saturday from 9:00 a.m. – 2:00 p.m.
Learn more & make an appointment.
Additional Hours
Community Cats Hours
Our Community team is typically reachable Monday – Friday from 9 a.m. – 4 p.m. However, as they're often out in the field, note that responses may be delayed!
Office Hours
Our front desk is staffed Wednesday – Sunday from 10:00 a.m. – 6:00 p.m.
Our administrative staff can generally be reached Monday – Friday from 9:30 a.m. – 5:30 p.m.
Donation Hours
We accept in-kind donations at our shelter during the below times. Learn more about what we can or can't accept at our in-kind donations page!
At front desk: Wednesday – Sunday, noon – 6 p.m.
Monetary donations are always welcome online or by mail. Learn more at our donation page!
More
Some of our other services vary based on staff availability and what's happening elsewhere in the shelter. For foster, check out our foster page for more details. For intake, check out our intake page for more details.
Get In Touch
When in doubt, the best way to get in touch with us is a call to our front desk or a note to our primary email. Both inboxes are monitored and your question will be passed along to the right staff member.
Other Ways
We're active on social media, where we post photos and videos of the cats and the humans who love them!