Our cats need stuff, too! This list is updated on a regular basis.
Looking for an easy way to give our cats a gift?
In-Kind Donations
Our shelter is always in need of essential resources, including cat food, litter, sheets and towels, batteries, and many other supplies. Please see below for a list of acceptable donations. If you have questions about whether we need something, call us at 773-262-4000, or see our Amazon wishlists below for detailed lists of our current needs.
You can drop off in kind donations in person at our shelter during the below hours or mail them to us!
Tree House Humane Society
7225 N Western Ave
Chicago, IL 60645
HOURS
At front desk: Wednesday – Sunday, noon – 6 p.m.
In our donation bins: Monday and Tuesday, 9 a.m. – 5 p.m.
Please note: while we'd love to accept everything at any time, it's important that our staff is on hand to preserve and sort through donations promptly. Please visit our front desk when we're open!
CURRENT NEEDS
Delicious kitty food: Friskies and Fancy Feast!
Canned tuna for our trapping support
Dog food for our pantry partners
We Can Accept
New or Open
Dry cat food (any brand)
Wet cat food (any brand)
Dry dog food (any brand)
Cat litter (any brand)
New (Unopened)
Cat and dog treats (any brand)
Cat toys
Prescription foods (any type)
Bags of fluids (still be wrapped in plastic)
Insulin syringes (U-100 only)
Revolution flea/tick preventative
We also accept…
Human-sized bath towels

Please no blankets, comforters, fitted sheets, etc.

Hard-sided pet carriers in good condition
Newspaper
TRUCatch Traps
Non-expired medications and supplements (see below)
We Can't Accept
Non U-100 needles/syringes
Controlled substance medications
Chemotherapy agents/medications
Cytotec or Misoprostol medications
Used cat trees, beds, litter boxes, toys, or scratchpads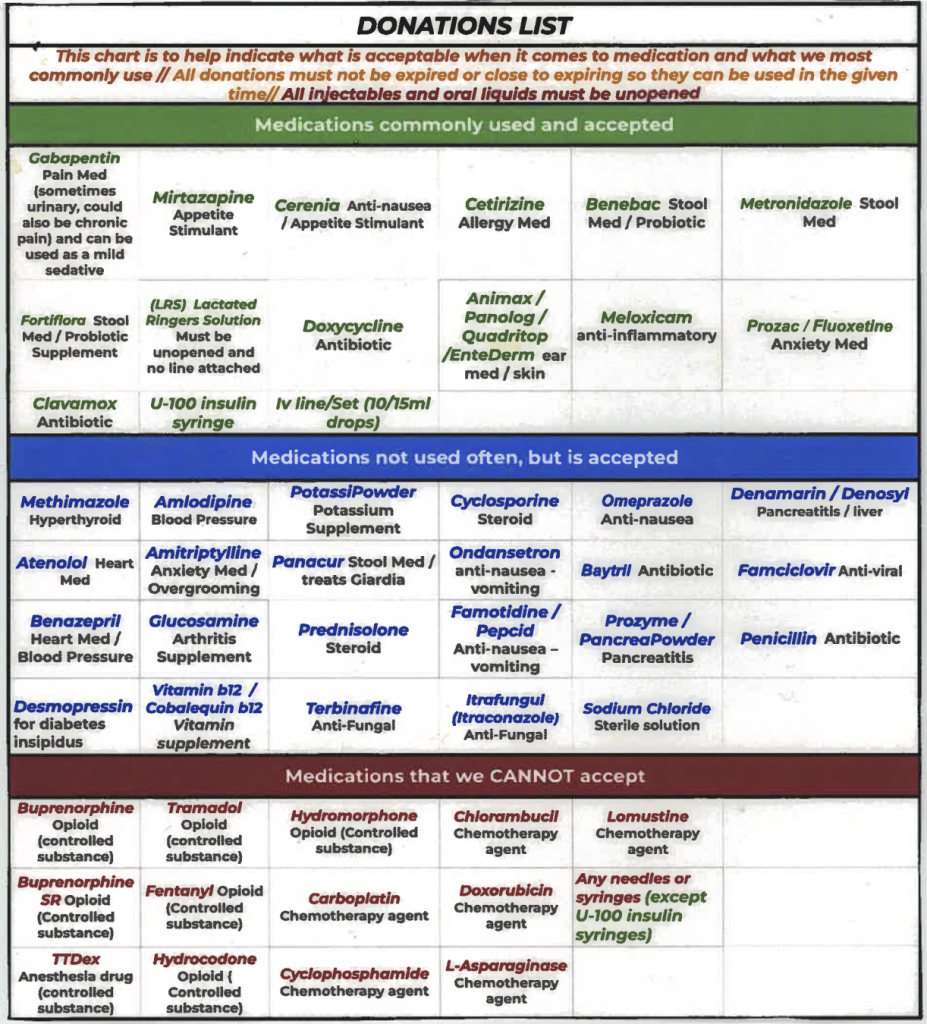 WISHLISTS
Don't have things to donate but still want to give? Our cats keep wishlists!
Favorite Toys. For enrichment, socialization, behavior, and fun!
Kitten Supplies. Our kittens don't get baby showers, but this is the next best thing.
General Supplies. There are some standards we can't live without.
---
Questions? Call us at 773-262-4000 or email development@treehouseanimals.org