monthly giving: like netflix, but for saving cats.
Tree House cats relies on support from donors like you. Every year, donations big and small allow us to do things like connect cats with local business owners, open a brand new care facility, and take care of the 1,000s of cats that come through Tree House.
By becoming a monthly donor, you can sponsor the cats of Tree House on a recurring basis. Depending on how you want to give, you'll get exclusive benefits, newsletters, merch, and more!
---
Sponsor Cat
Our long-running Sponsor Cat program directs your monthly donation to the most in-need of our cat population. Long-stay cats, animals with chronic medical conditions, outdoor colony cats…animals who rely on your love and support to thrive.
Benefits
Postcards from your sponsored cat
An open invitation to visit your sponsored cat
Private tours of the Veterinary Wellness Center or shelter
Good kitty karma!
Meet our 2021 Sponsor Cats!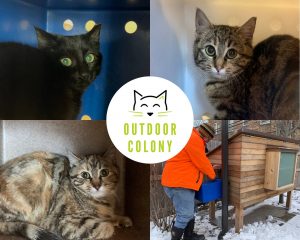 ---
HEARTBEAT CLUB
The Heartbeat Club is the easiest way to give to Tree House monthly! Your gift of any amount goes to support every cat in our population, from kittens to seniors, and even helps us support dogs at our Veterinary Wellness Center.
Join Heartbeat Club with a monthly gift of any amount.
Benefits
A private tour of the Veterinary Wellness Center or shelter
Exclusive Heartbeat Club update
Good kitty karma!