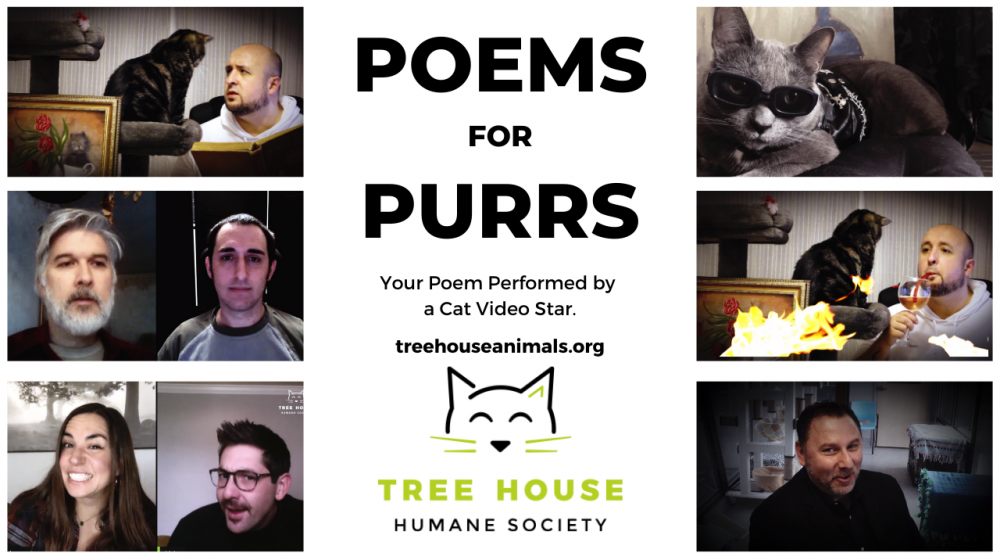 BIG NEWS: Cat Video Stars Read Your Poems to Support Our Cats!
We have a treat for you today!
Thanks to the generosity of some fabulous cat video stars, we are giving you all the opportunity to write an ode to your beloved cat and have it dramatically read, filmed, and published in support of our homeless cats. Do you want to wax poetic about your cat's toes? Now is the time. Do you wish to let everyone know how much you love your feline friend in sonnet, or even limerick? This is your chance.
From today through May 11th, submit your poem along with a $25 minimum donation and it will be read on camera by one of the following cat video stars:
Will Braden, Director of the CatVideoFest and Creator of Henri, le Chat Noir
Paul Klusman & TJ Wingard, The Cat Engineers
Alana Grelyak & Kris Flanagan, Stars of The CATastrophes Web Series
The PURRminator, also a Star of The CATastrophes Web Series and reportedly a Tree House Cat
And, to showcase some of our own talents, we've included representation of the Tree House staff in the form of Paul Chakrin, Manager of Finance and Chicago actor. Thanks, Paul. (Ok, Alana works here, too, but she's repping Team CATastrophes for this one.)
Final performances will be published to YouTube and other social media accounts of Tree House and our readers on May 25th, 2020.
Get out your pens (or pencils, crayons, feather quills, etc.) and start writing! Your cat deserves to be known.
Not convinced yet? Then check out this epic trailer to see our stars in action.
Hurry! Limited spots available!
Love,
Tree House.
PS. You'll see the full details on the donation page, but we want to remind everyone that if you submit your poem, you're giving Tree House the right to publish it in dramatic reading form, but you still own your poem and we won't use it for anything outside of this project and using this project to promote Tree House. So, make sure your poem is original and you have the right to let us perform it! Thanks.