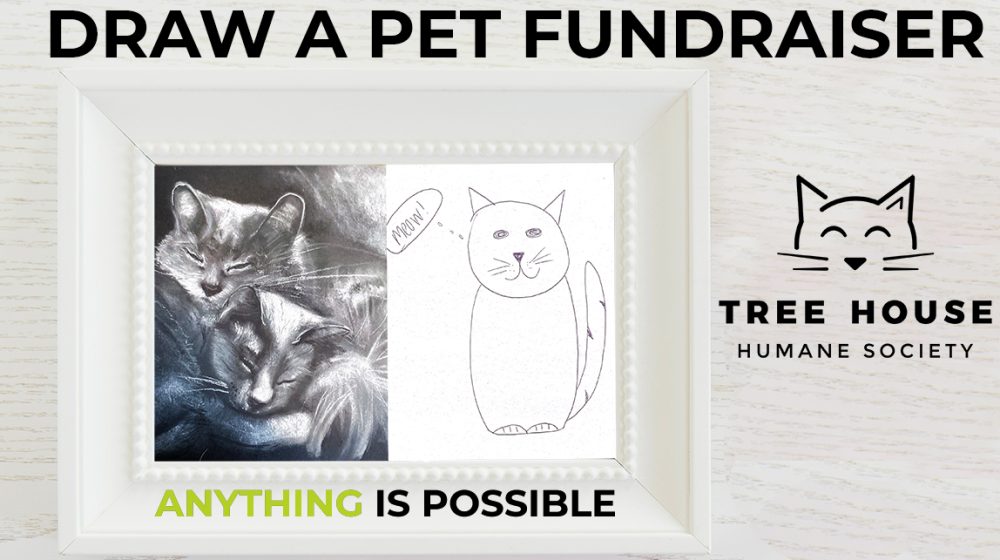 DRAW A PET FUNDRAISER: Prepare to be Wowed
Dear Tree House Supporters and Friends,
It's a tough time for the world right now, and we're all trying to find ways to support ourselves, our businesses, our families, and in our case, our cats. We thought it would be a good time to offer the world a bit of levity through artwork by rounding up our volunteers to create masterpieces of your pets. And so, with a minimum donation of $15, you too could have a likeness of your favorite animal, perhaps in crayon, maybe in charcoal, might be in construction paper – we really don't know! But we do know that, above all else, it will be memorable and your donation will have gone to the great cause of supporting our cats so we can continue our work during these challenging times.
Visit our Facebook page where you can make your donation and then post your pet's original photo as a comment. Donations/submissions are accepted from now through April 12th at 8 pm. All masterpieces will be returned on April 17th digitally via the same Facebook post.
Don't have Facebook? That's ok, we have you covered. Make your donation through our regular donation page and then email your submission to petdrawings@treehouseanimals.org, noting that you donated through our regular donation channel and including in the email your FULL NAME that you donated under. Your completed conversation piece will be returned to you via the same email you sent.
Questions? Let us know! We're here to help.
Prepare to be wowed.
Love,
Tree House.