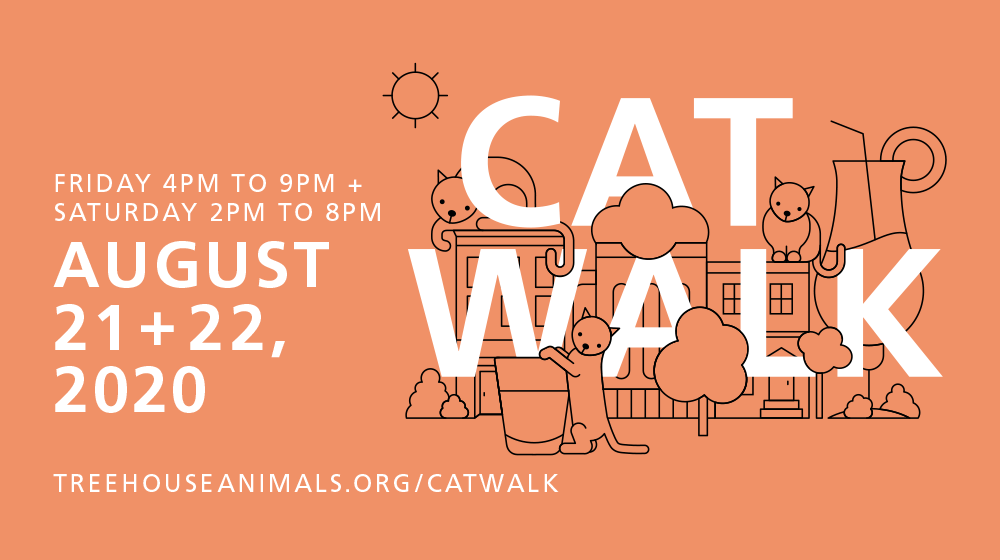 CAT WALK: We Changed the Date!
Dear Everyone,
We know you've been looking forward to Cat Walk since the epic, sold out time we all had together last year. We've been looking forward to it, too. Of course, things in society have changed in ways we could never have predicted in July of 2019, and now, here we are in 2020, social distancing and staying home. What hasn't changed is that we're still trying to raise funds to support the neediest cats Chicago has to offer, and we knew that we couldn't let them down by cancelling such an important event.
Therefore, we're changing it.
Originally slated for July, Cat Walk is now moving to August and it's going to be more of a choose your own cat adventure event rather than a group walk. Check out this sleek flier we had designed that explains it all: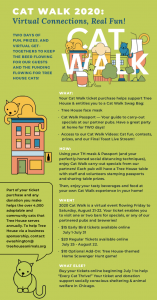 You'll note that the new dates are August 21-22. That's right, it'll be two days instead of one! Most notably different is that, instead of gathering all together in a large gaggle of cat lovers (is that the right collective term for cat lovers or is that reserved solely for geese?) we will be spreading out to various neighborhoods where you can choose your preferred venue and enjoy Cat Walk carry-out or delivery specials.
But how will you connect with all the people you love at Tree House, you ask? We will have staff and volunteers at each location preparing to help you have a good time with an in-person game or activity. But what if you're choosing delivery, you wonder? We'll also be broadcasting online at specified times so you can still take part!
See? We love cats and our community SO MUCH that we reworked everything to make sure it works for everyone.
Tickets go on sale JULY 1. So, consider this your official SAVE THE DATE: August 21-22. LOCATION: Your choice. Partnered pubs to be announced shortly. Watch our website for more info!
"See" you there!
Love,
Tree House.
PS. If your company would like to sponsor the event, we can make that happen! Contact Erin Washington and let her know. She'll get you the details.