Bandy & Licorish: Socially Conscious Sheltering In Action
by Sonia Ramos
At Tree House, our mission is to ensure that every cat thrives, but not every feline has the same exact needs. By following the Socially Conscious Sheltering model, we're able to work with caregivers and communities to provide individualized care for each resident based on their medical and behavioral assessment. Bandy and Licorish, two Long Stay Tree House cats, are excellent examples of Socially Conscious Sheltering in action!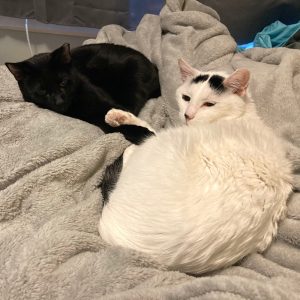 Bandy (right) and Licorish (left) holding paws as they settle down for a nap
In May 2019, we welcomed Bandy and Licorish with open arms when they were transferred in from one of our shelter partners–Chicago Animal Care and Control (CACC)–along with three other cats who were rescued from a hoarding situation. While the other three cats have since been adopted, Bandy and Licorish remain in our care as they await their forever homes. Originally, they were residing on our adoption floor, but when the pandemic hit Chicago earlier this year, they moved into foster care with the rest of our residents. Since making the move into a foster home, we've seen Bandy and Licorish really begin to thrive.
Foster care provides many benefits to the cats in our care, the biggest one being that a foster home is far less stressful than the shelter environment. With different scents, strange noises, and new visitors appearing every day, an animal shelter can be a very stressful place for homeless animals. For older residents with health conditions or those with nervous temperaments, high stress levels can exacerbate symptoms or lead to behavioral issues. In the case of Bandy and Licorish, both middle-aged residents were diagnosed with diabetes upon their arrival at Tree House. When they moved into foster care, we found that their illness was much better managed. The established routine and lower stress levels in foster care did wonders for their health, and as they felt better, their true personalities came out.
Bandy with his favorite rainbow toy
As members of the Shelter Skippers program, Bandy and Licorish will be adopted straight out of their foster home and into their forever homes. This means their foster parent, along with the Tree House team, is working hard to promote them and connect them with their future adopters. In the meantime, all Bandy and Licorish have to do is chill out and be extra cute for photos. A win-win situation, dare we say.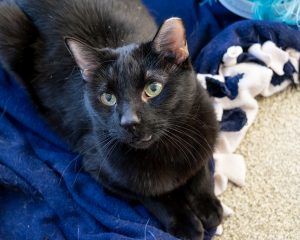 "Actually, it's hard work being this cute all the time." – Licorish
But this doesn't mean their journey to adoption will be easy. Senior animals and especially seniors with chronic diseases have an undoubtedly more difficult time getting adopted compared to younger animals like kittens or puppies. Many adopters are interested in kittens because, well, they're cute little fluff balls of energy, but we know a secret they don't – senior cats have a leg up: they have an established personality (what you see is what you get) whereas a kitten still has a lot of growing up to do.
Bandy and Licorish are mellow buddies who still have their occasional playful moments. Bandy has mastered tapping his human when he wants them to continue petting him whereas Licorish will go bananas over catnip infused taco toys, go figure. Their foster mom also reports that Bandy will try his hardest to explain to her why she should give him dinner two hours early simply because she stepped foot into the kitchen. Bandy and Licorish may be in their double digit years,but they clearly have quite the charming personalities and definitely a ton of love to give. All they're asking for is a caring person in a quiet home with an appreciation for their maturity and a willingness to provide the medical care they need. We speak from experience when we say that an older kitty adds just the right amount of sweetness to anyone's life.
At Tree House, we are committed to our mission's holistic approach to cat care and Bandy and Licorish exemplify this commitment in every way. As our saying goes, "Once a Tree House cat, always a Tree House cat." So, even after these two are adopted, their adopters will always have Tree House to lean on for support every step of the way.
Interested in opening your home to Bandy, Licorish, or both? Contact us at info@treehouseanimals.org or at 773-262-4000 ext. 101 for more information and to set up a meeting with these two cuties today!