MEDIA CONTACT: Alana Grelyak: 773-262-4000 ext. 118 or agrelyak@treehouseanimals.org
October 25, 2019
"Trick or Tree House" Event Welcomes Community/Children for Feral Colony Housewarming
One of Chicago's oldest, cage-free cat shelters is opening its doors for a Halloween housewarming for its new colony of feral cats. Children will be invited to trick or treat with costumed cats and community members will be able to sample drinks from the on-site cat cafe.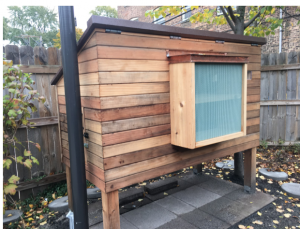 A new colony is coming to Tree House Humane Society. As a resource for over 1,000 colonies and their caretakers in the Chicagoland area that provide homes to over 4,000 cats, Tree House is now taking its own advice and getting an on-site colony of its own in the parking lot of its new Roger's Park shelter.  
Chicago is known as one of the rattiest cities in the nation and alleyways behind a cat shelter are no exception. After moving in to their custom-built, eco-friendly cat shelter in 2017, Tree House began noticing that they have just as many rats as the rest of the city. They have decided to implement their very own Cats at Work program on site, where three feral cats (those who prefer to live away from the company of humans) will be re-homed to Tree House's yard and parking area to live in a brand new, custom-built colony shelter, complete with its own window box to match those on Tree House's main building. 
"Having a colony on site will not only help Tree House's rodent issue, but will benefit our neighbors as well," said Darlene Duggan, Tree House's Director of Operations. "Additionally, we are looking forward to using our colony as an example for training and informing supporters about the important work we do around the community and outside of our shelter building." 
The building was funded and built by the generosity of Erik Anderson and EA Construction Company. Additional support was provided by Tree House's long-time donor Chris Collins.
Tree House will be hosting 50 area children and various members of the community for a house warming to celebrate the colony's arrival. It will take place from 10:30 am to 1 pm at 7225 N Western Ave on Thursday, October 31st. Tours of the new colony site will be given, along with explanations of the Trap/Neuter/Return process. There will be trick or treating in the main building and the Cat Cafe will be open serving sample sizes of holiday drinks. All are welcome to attend. 
###
About Tree House Humane Society
Since its founding in 1971, Tree House Humane Society has created innovative and progressive approaches to animal welfare that not only enhance the lives of companion animals in the community but also bring a greater awareness of animal welfare issues to the general public. Tree House's vision is to see every cat thrive. 
For more information about Tree House Humane Society, visit https://treehouseanimals.org