Tree House Humane Society Promotes Cat Co-Workers for Hire to Make Working From Home Less Lonely
MEDIA CONTACT: Alana Grelyak: 773-262-4000 ext. 118 or agrelyak@treehouseanimals.org
march 19, 2020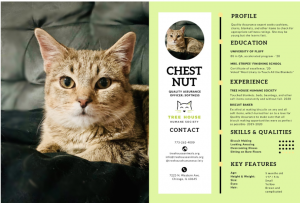 CHICAGO, IL – The Coronavirus crisis has necessitated more people begin working from home than ever before. Social distancing can be isolating, but having a pet in the home can provide loving company to help pass the time, and pets seem to be enjoying the extra time with their humans, too. Tree House Humane Society wants to make sure that everyone who doesn't yet have a co-worker can hire one, so they are promoting the #hireacoworker campaign to get all of their adoptable cats into homes. 
Tree House is making it easy to meet their cats by providing resumes and headshots for all of their available cats, who are presently in foster homes while the shelter is temporarily closed. The little job seekers' resumes are being posted to Facebook (@treehousehumanesociety) and Instagram (@treehousehumanesociety) daily, along with Ask Me Anything interviews in Instagram stories. Cats will also be available for one-on-one virtual meetings and, as of next week, Tree House will be hosting live shows online introducing their little clients. 
"We understand that it can be lonely working from home since many of us are also doing it," said Tree House's Manager of Marketing & Community Relations, Alana Grelyak. "Since we can't host our usual community get-togethers at Tree House or have guests into the shelter right now, we want to make it as easy as possible to get cats into their forever homes so we're making sure they have a strong presence online. With all the time being spent at home, now is the perfect time for anyone who has been wanting to adopt a pet to do so."
Potential employers (adopters) can view available co-workers (cats) at treehouseanimals.org/shelter-skippers-adoption  Anyone who can't currently adopt is encouraged to apply to foster at treehouseanimals.org/foster 
###
About Tree House Humane Society
Since its founding in 1971, Tree House Humane Society has created innovative and progressive approaches to animal welfare that not only enhance the lives of companion animals in the community but also bring a greater awareness of animal welfare issues to the general public. Tree House's vision is to see every cat thrive. 
For more information about Tree House Humane Society, visit https://treehouseanimals.org