MEDIA CONTACT: Alana Grelyak: 773-262-4000 ext. 118 or agrelyak@treehouseanimals.org
October  10, 2019
Magic, Music, and an Emmy Award Winner Draw Donors with Hearts for Cats
Tree House Humane Society launches its inaugural "Cat'baret" at Chicago's City Winery with plans to raise over $100,000 for homeless and stray cats by using the talents of Emmy winner Scott Gryder and friends.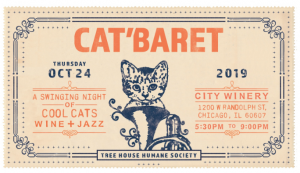 This October 24th will see the debut of the first annual Cat'baret, a fundraiser for Tree House Humane Society, which will feature an evening of entertainment hosted by Emmy award winner Scott Gryder, roaming magicians, contortionists, and cat-inspired performances. The night will be enhanced by fine hor d'oeuvres, desserts, beverages, and an exclusive Cat'baret cocktail. 
"We are thrilled to announce this brand new event," said Executive Director Raissa Allaire. "Its updated, fresh feel more closely matches our new shelter facility and recently-announced rebrand, and we think our donors and supporters will love it. It's a fantastic way to come together as a community in support of the cats who need us, or simply to enjoy yourself while learning about a great organization."
The headlining act and MC will be Scott Gryder, a three-time Emmy award-winning Chicago entertainer. Currently performing in the cabaret circuit and at local music venues, Scott specializes in character songs with musical styles ranging from pop and cabaret to specialty numbers and show tunes. He covers the works of show music from Sondheim to Kerrigan & Lowdermilk to pop music from stars such as Elton John and many more. Referred to as a belting "super tenor" and a "one-man parade," Scott blends a musical cocktail of the zingy warbles of vintage Judy Garland with the spirited enthusiasm of the cast of Glee, paired with the poise and show business charisma of Billy Crystal. 
The event will take the place of Tree House's more traditional past event – the Black Cat Ball. It will start at 5:30 pm the evening of October 24th at Chicago's City Winery at 1200 W. Randolph. Tickets are $200; VIP tickets are $500. All tickets include beer, wine, appetizers, desserts, and an evening full of entertainment. For more information and to buy tickets, visit https://treehouseanimals.org/catbaret.
###
Since its founding in 1971, Tree House Humane Society has created innovative and progressive approaches to animal welfare that not only enhance the lives of companion animals in the community but also bring a greater awareness of animal welfare issues to the general public. Tree House's vision is to see every cat thrive. 
For more information about Tree House Humane Society, visit https://treehouseanimals.org
About Scott Gryder
Scott Gryder is part of the cast and creative team of WCIU's Emmy-Winning cats of Green Screen Adventures, a national children's television show that promotes reading and writing among elementary school students. Many of Scott's roles have been animal characters and puppets. Scott Gryder's debut album Pure Imagination is available on iTunes and CDBaby, featuring Scott's long-time, award-winning musical director Nick Sula. For more information about Scott Gryder, visit https://thescottgryder.com.