Tree House's First-Ever Cat Walk Pub Crawl Fundraiser!
Do you like beer? How about cats? We think there's a pretty solid chance that you like one of those two and, if you do, you're our people. Do you like both? You're definitely our people.

And so, we'd like to introduce you to our newest fundraiser: the Cat Walk.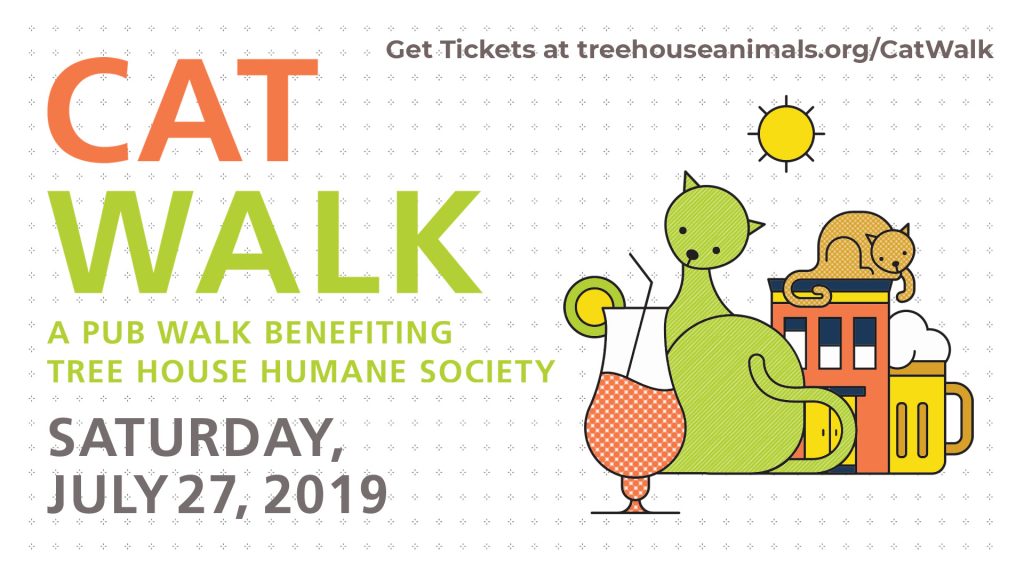 Think: Catchella. Think: bar crawl meets fundraiser meets community engagement. Simply put, you can have a cocktail in honor of a kitten.

All of this fun will take place in Andersonville on Saturday, July 27 from 2pm – 6pm. Come hop along with us to Empirical Brewery, The Meeting House Tavern, The SoFo Tap, and Fat Cat. They have beer and one of them even has cats and, if you're lucky, you'll get the chance to see them as they patrol Empirical Brewery doing what they do best: keeping the rodents away as part of our Cats at Work program. No cat sighting, though? No problem! Every bar will be offering amazing drink specials. The Meeting House will have $5 Meow-garitas and $12 Purr-fect Mimosa Carafes. Empirical Brewery is planning a $4 house special on tap, Egon's Ale, brewed specially for their brewery cat Egon's birthday. The SoFo Tap is offering their Lap It Up special, half-off brews, and $4 Cat's Meow Shot. And the aptly named Fat Cat will have $4 mixed drinks, featuring mango and paw-megranate.

Excited? There's more! Get ready for cat trivia, kitten naming, and all kinds of other things our feline-serving staff are dreaming up for you. You'll receive a passport at your port of entry (one of two bars, your choice when you purchase tickets) that will get a stamp for every activity you complete. When you hit all four Cat Walk locations, you get entered to win some big giveaway prizes, including an overnight stay for two at the Drake, box seats at a Sox game, and a cocktail making class at KOVAL Distillery.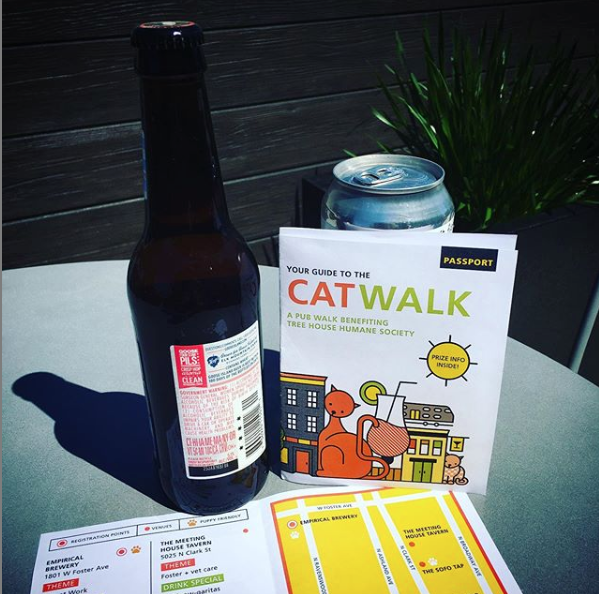 We invite everyone to come out, bring your friends, and help us raise some funds to support our mission to empower communities of caregivers to protect, nurture, and support new solutions so no cat suffers. Be a part of the first-ever, hopefully-to-be-repeated, feline-fabulous, beer-filled Cat Walk and help support socially conscious sheltering and animal welfare in Chicago.

Tickets for Cat Walk can be found at treehouseanimals.org/catwalk. If you can't make it, you can donate and support the Cat Walk with a virtual cocktail. Our kitties will love you for it.    

And if you happen to be neither a cat lover nor a beer lover, why are you still reading?

Love,

Tree House.