Resident Profile: Dillon
by Sonia Ramos
Do you like suave, gray and white tabbies with big purrsonalities and a passion for fashion? If the answer is yes, Dillon might just be the furry friend for you.
This prestigious tabby arrived at Tree House in September 2019 as part of our regular transfer from Chicago Animal Care and Control. After spending a couple of months at the shelter, we learned that Dillon was an extremely jovial and playful cat who required a lot of playtime and enrichment to feel happy and content.
Unfortunately, he slowly grew frustrated with being unable to run around in a larger space and indulge in silliness with toys and cats galore like he wanted to. Additionally, Dillon was diagnosed with stage three kidney disease and we knew that Dillon needed a change in his environment so that he would not experience prolonged stress that could affect his health any further.
With very careful consideration from our clinic team, we sent Dillon to a foster home and worked together with his foster family to ensure he was thriving.
When Dillon's extremely active personality and temperament proved to be a little too spunky at times when interacting with people, Dillon was placed on a behavioral medication to help him feel more calm. This medication continues to help Dillon live his best cat life in his current foster home.
Take it from foster mom Julie:
"I can't rave enough about what a good sleeper he is. I have experience with cats in the past who wake me up at night . . . but without fail Dillon sleeps soundly through the night. He goes to bed when we do, curls up by our feet, and typically stays in the exact same spot until we get up in the morning. It's a dream! He's also a perfect litter box user, never any issues there.
You can tell he really loves humans because he always comes to whatever room we're in. When we're cooking, he finds a spot in there to be nearby. When we're working, he'll curl up on a chair next to our desk. Unless he's in a deep sleep, he'll almost always be found nearby no matter where we are or what we're doing."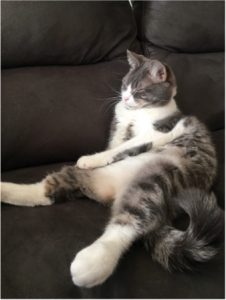 Give dillon a forever home
It's safe to say that with the right amount of playtime, a big enough space to run and climb, and some attentive and experienced humans who can provide him with everything he needs in terms of his health and behavior, Dillon becomes a happy camper and will slowly begin to unravel his subtle sweetheart purrsonality.
His adoption fee has been sponsored by a generous donor, and he'd love to join your family!
Contact us at info@treehouseanimals.org or at 773-262-4000 ext. 101 for more info on Dillon.