Resident Profile: Mardis Gras
By Sonia Ramos
Mardi Gras 2021 might be over but the party's just getting started with our featured Shelter Skipper Mardi Gras!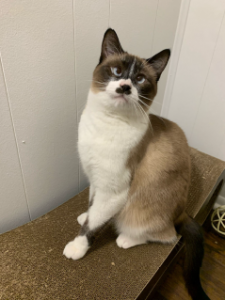 This quirky and cute Siamese kitty's journey at Tree House is remarkable, to say the least. Mardi Gras was admitted for intake in January 2020 along with another kitten named Nola. These two kittens were trapped as part of a TNR (trap-neuter-return) project and were deemed old enough to still be socialized and placed for adoption. But what do we mean when we talk about socializing kittens trapped in the field? Our clinic staff members Lyndee McPeek and Alina Dain describe kitten socialization perfectly here:
"Kittens learn how to behave from their mother so a kitten born to a feral mom will learn not to trust humans. A kitten born to a semi-social or outgoing mom will have an easier time becoming socialized to humans than one born to a completely feral mom. The most important age range for a kitten's socialization is 2-7 weeks. It is possible to socialize a feral kitten; however, it takes a lot of time, energy, and effort. Results are variable depending on the age of the kitten when socialization began, how truly feral the mom is, and how much time is dedicated to socializing the kitten as well as the tactics used for socialization."
Mardi Gras and Nola were sent to foster to be socialized two days after being admitted to Tree House. After a month of being in a foster home, they were spayed and then moved up to our adoption floor. Mardi Gras was adopted as a solo kitten but unfortunately returned a week later due to the family not seeing the best fit for her with their small children. Shy cats like Mardi Gras generally need quiet homes where they can take their time settling in, adapting to their new environment, and learning to trust their new family.
Naturally, Mardi Gras was very fearful upon being returned to the shelter and she was then sent back to foster with our intention of her becoming a Shelter Skipper at the time. But after only a few days of being in foster care, Mardi Gras was adopted again by a new family. After a year of being in her adoptive home, Mardi Gras was returned to Tree House in January 2021 because she was very shy and not social enough in the home. While being housed in our clinic upon return, our clinic and shelter staff teams noticed Mardi Gras was displaying major behavior regression. Lyndee and Alina elaborate on this term here:
"Behavior regression [means] any change or stressful event could have [Mardi Gras] regress to a prior behavioral state. We see this happen with cats who have become social in an isolation unit environment but then become shy again once they move to the adoption floor. Mardi Gras has gone through a lot of change and been in multiple environments and oftentimes it can feel like starting over in terms of getting her to trust us again."
Trust was very difficult for Mardi Gras to develop with humans after being in and out of homes and the shelter so much. Our clinic team put a behavior plan in place, which usually entails providing a cat with daily TLC (tender loving care) and enrichment, typically through the form of play therapy. Play therapy works wonders because, according to Lyndee, "playing is a great tool for socialization as it can be distracting–they have so much fun they forget about the "scary person"– It can build confidence, and creates a positive association with people while at a distance so the cat can continue to feel safe."
At Tree House, we assess a cat's behavior at the time of intake and continue to reassess throughout the cat's stay at Tree House. We do our best to gather information about the cat's history, if possible, and then determine the best way to provide TLC and enrichment for that particular cat. For example, a cat who was returned after a decade of being in a home will need a longer time to adjust to the shelter environment. However, as we know, not all cats thrive well in the hustling and bustling shelter environment. Thankfully, our Shelter Skippers program acts as a safety net for those cats who simply need to be in a home in order to thrive and shine.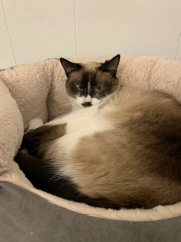 Currently, Mardi Gras is in a foster home and her foster mom Arianna is working hard on socializing Mardi Gras and getting her to understand that people aren't so scary. Socializing a shy or fearful animal is not always so easy and bumps in the road are to be expected. Our foster coordinator Rachel Peterson shared an update from Mardi Gras' foster mom:
"Very playful as always, and does seem to be less skittish with my presence – she comes to the door when I open it and is curious, and lets me sit closer to her than before. I still need to use pretty slow movements though, and have only petted her a handful of times. She and my cat are getting along okay; not as well as my cat has done with other fosters, so I'm a bit bummed about that, but trying to find new ways to help them associate good things with each other."
With prolonged TLC and enrichment in foster, we know that Mardi Gras will slowly begin to blossom over time and learn to trust people again. But in the meantime, this party cat is available for adoption out of her foster home. Mardi Gras would do best in a quiet home with no dogs or young children but rather with adults who have experience with shy or anxious cats and are able to continue providing Mardi Gras with daily TLC and enrichment for socialization in order to avoid behavior regression.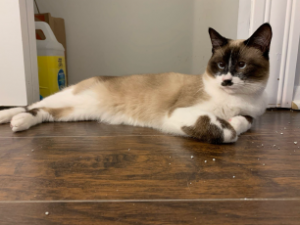 Contact us at info@treehouseanimals.org or at 773-262-4000 ext. 101 for more info on Mardi Gras.