Leonardo: King of the Forest Floor
Ok, so he doesn't actually live in a forest, but he does live in a Tree House (and he spends a lot of time on the floor), and we're hoping to change that. See, Leonardo has been at Tree House since 2017. That's a long time. Now, let's take a look at this face and see if you can spot anything that would make it hard for him to get adopted:
Nope. Looks good, right? Ok, MAYBE he looks a bit older than he is (he's actually only 6). Maybe his eye is a little goopy. Maybe he has FeLV (he does, that's not a maybe), and FIV (he comes fully-loaded) but in addition to all that, he also has love! Love to give YOU, the one person in the whole world that he's been waiting for to see through his slightly rough exterior right into his soft, lovely heart.
Imagine yourself sitting on the floor, right next to Leo on his very favorite Kingdom, him in his soft, comfy throne with a plate of wet food, you with whatever it is you like to do. You would pet him gently, but you would know when to stop and would respect his wishes, as is his right. Now, imagine the best part of all of this: that you single-handedly gave a second chance to a little guy who really, really needed it.
Leo doesn't mind other cats, but Tree House recommends (in some situations)* that he live with other FeLV-positive kitties. Lucky for you, we have them! (See Ginger below) He would also prefer a chill, quiet home, one with plenty of floor on which he could impose his will.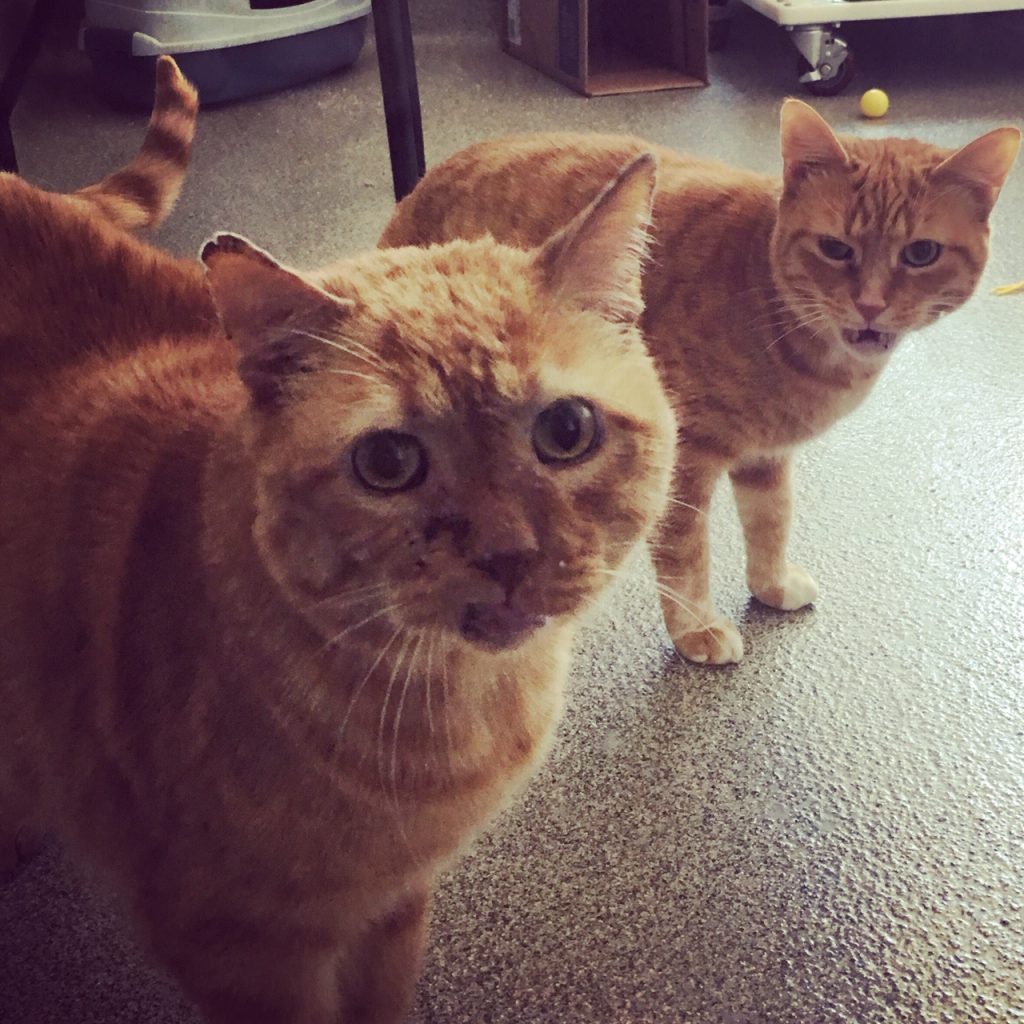 If you think Leonardo could be the kitty of your dreams, come in to Tree House to meet him. Ask for him by name; we all know him here.
We hope to see you soon. So does Leonardo.
Love,
Tree House.
*Tree House doesn't recommend sending an FeLV-positive cat into homes with kittens or geriatric cats. However, see our adoption counselors to see if he might fit into your existing cat household.
**This post was updated shortly after posting to reflect Leo's FIV-positive status (we don't think too much about it and forgot to include it) and Tree House's new guidelines on mixing FeLV-positive cats with FeLV-negative cats. **