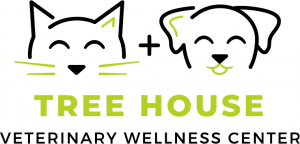 TOGETHER WE THRIVE | APRIL 13, 2021
We believe everyone should have
access
to
quality
vet care. We deliver compassionate care that results in healthy pets, healthy families, and healthy communities. 
---
We are proud to open our Veterinary Wellness Center (VWC) as an expansion to our current clinic and shelter on Western Avenue.
CARE YOU CAN COUNT ON
By guaranteeing access to quality vet care to all, we are serving a key need in our communities. The VWC is open to the public for veterinary wellness care: a place for anyone to bring their pet for all their basic needs. 
A COMMUNITY OF CARE
Tree House is fortunate in our ability provide essential spay/neuter and wellness services for our resident cats. Not all shelters are so lucky, and we look forward to providing cost-effective partnerships with rescue and shelter partners. By expanding our clinic and opening it to the public, we can save even more cats (and dogs)!
SERVICES & PRICING
The Tree House Veterinary Wellness Center (VWC) offers spay/neuter and basic wellness services. Learn more!