Tree House incorporates volunteers into almost every aspects of our work, and we are always seeking excited, dedicated individuals who are looking to support our mission of seeing every cat thrive! Based on your experience level, interests, and availability, our Volunteer Coordinator will work with you to find out what role might be the best fit for you.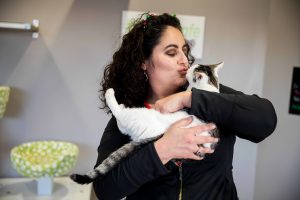 ---
Volunteer roles range from assisting with the care of our resident cats or to updating essential information in our database to helping with post-surgery recovery for cats in the Clinic. Whether you're in a hands-on role taking care of the cats or you're counseling patrons through the adoption process, you give invaluable support to the residents and staff of Tree House!
Because we value the time and resources that our volunteers and staff members dedicate to the training process, we ask that all volunteers are willing to make a minimum commitment of 9 months. While you may be able to use your volunteering hours at Tree House to meet a service hours requirement for school or another organization, please understand that you are committing to volunteering beyond that minimum hours requirement to complete the full 9 months.
We are not currently accepting additional volunteer applications due to demand and capacity.
We're looking forward to reopening our programs soon!
---
Please note that submitting an application does not guarantee your entry into the volunteer program. Tree House is unable to provide service hours for volunteers needing to complete court-mandated community service hours.