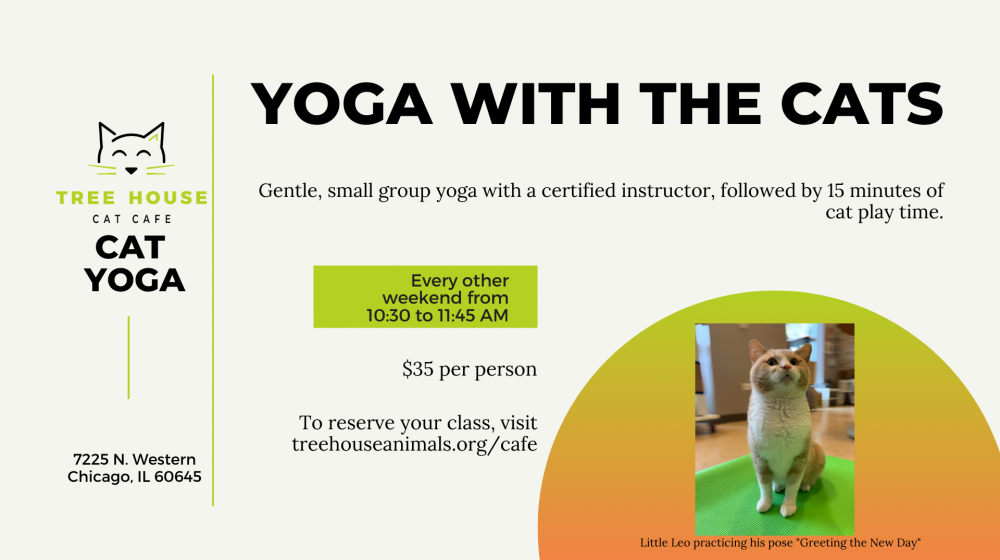 Upward-Facing Cat: Yoga at Tree House
Would you like to get your stretch on while soft felines weave about your limbs, offering nose boops as a reward for touching your toes? Then we are about to fulfill your want!
After a month of doing a little testing, we are ready to launch our new and improved Yoga with the Cats program. Every other weekend (Sundays for now, and Saturdays coming soon) at 10:30 am, five lucky people will get to do poses with our kitties for an hour, followed by fifteen minutes of posing with the kitties for your Instagram pages.
The yoga is gentle to keep it safe for our kitties and all levels are welcome. Children over 12 may also attend when accompanied by an adult. Classes are kept small to make sure you get priority time with the yoga instructor and with our kitties, so get your tickets early!
Also, it has happened lately that we've run out of kitties – a very good thing! – and had to cancel classes or move them to another place in the shelter. We'll let you know if that happens and refund you if you want to cancel, but with kitten season coming, we should be full of kitties looking for homes very soon.
Ready to book your yoga class?  You can do that right here to get some upward-facing cat with your downward-facing dog.
The kitties are looking forward to it!
Love,
Tree House.