The Lights Are Lit! See the Lights of Love Highlights
Thanks to everyone from near and far who made Lights of Love a grand success! Almost 300 people came together to enjoy live music by etc. Music School, donuts from Stan's Donuts, food from Wow Bao, Foodlife, and Hub 51. Our 20th annual Lights of Love presented by VCA and Heal was tremendous fun and we truly believe it was our best Lights of Love ever.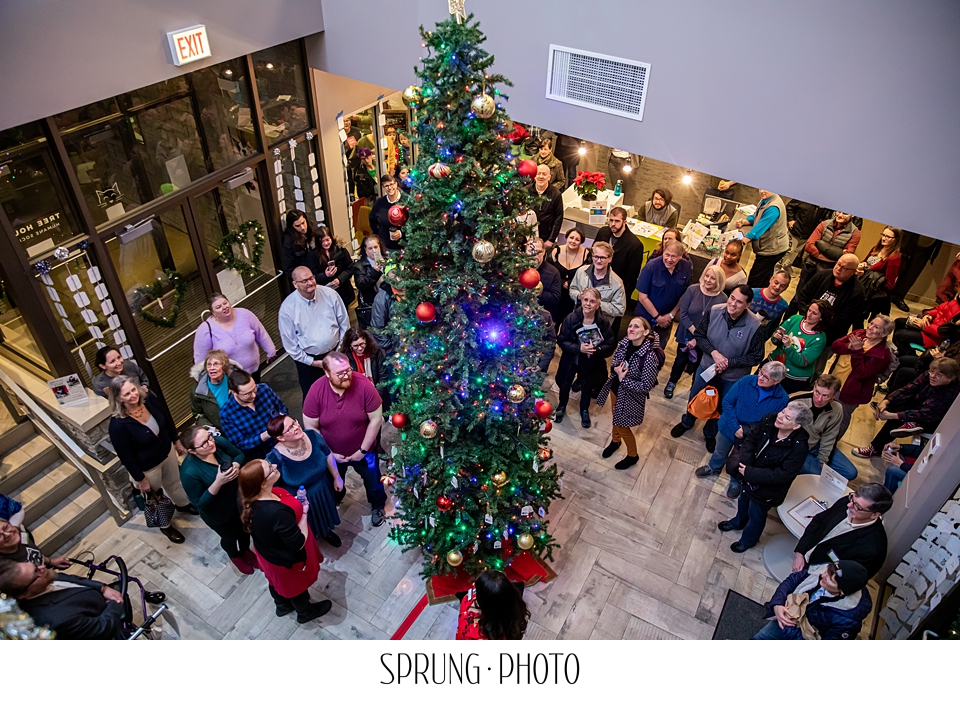 Our staff went out of their way to deck out the shelter this year with a 15-foot tall tree donated by a generous family. Wreaths adorned almost every door and window and trees lined our hallways, all lit up in honor and memory of loved ones as part of our Lights of Love holiday appeal. That same appeal brought us hundreds of tags hand-decorated by our supporters from all over the country, which are now festooned like garland throughout the shelter where they will hang until the new year, and where visitors can read them and share in the love.
Some new additions to this year's event included Virtual Adoptions so attendees could take home a tiny Tree House kitten representative in a scale model of our adoption box. They sold like little hot cakes! We also had face painting, holiday drinks in the cafe with a Marshmallow Bar, a wish tree for our cats (they got half of the yoga mats they need to start those Cafe yoga classes they've been dreaming about!), photos with Saffy Claws, a visit from Zoe the foster kitten, Hats on Cats, and more fun stuff.
We truly cannot thank everyone enough for making this the community event of the year here at Tree House. We are already planning for next year! Enjoy the photos from this year, taken by Sprung Photo, and stop on by when we're open to see the lights still shining bright until 2020. We can't wait to see you.
Saffy Claws Comes to Town

wreaths lit with love

Our new logo in lights

etc. Music School directed by Mike O'Mara

A resident cat checking out the spectacle

Donuts from Stan's

One of our many trees

This year's program

Tags hanging in honor and memory

Raissa Allaire and supporter David Helt

Tree House Board members Kat Hindmand and Ann Johnson with their virtual adoptions

Hats on cats – So Close!

Board member Dr. Ross with Christine Holt

Our guests Mr. & Mrs. Joseph Dombrowski

the buffet

Part of the Tree House choir singing "12 days of Catsmas"

Lit!

About to be lit!

Raissa Allaire gives a talk and takes a moment of silence for remembering

The lobby full of people

More hats on cats players

Staff and volunteers being surveyed by our kitties

Wish tree tags for our kitties

A child enjoying the tree

Children hugging Alana Grelyak

Foster kitten Zoe

Volunteer Paul juggling

Saffy Claws doing her best

Virtual Adoption kits

Lights of Love 2019 Sponsors
Love,
Tree House.